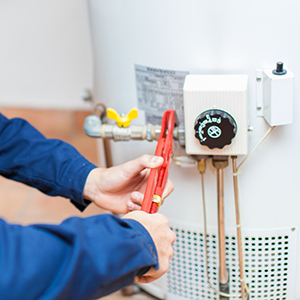 If you love stepping into a hot shower in the morning, you'd better have a water heater that's functioning properly! M & S Heating Service Co. Inc. will not only make sure your heater is providing reliable hot water each and every day, we can also help you replace an old or inefficient one. There's no heater repair issue that can elude us and you can rest assured, any water heater repair in Tipp City, Miami County, Dayton, Troy, and Vandalia, OH we deliver is going to be one that lasts.
Water Heater Repairs:

Not getting the temperature you want from your water heater? Problems getting a consistent stream of heated water? No hot water at all? Don't let problems like these and more leave you wondering about the efficiency of your water heater! Instead, give us a call for heater or boiler repair that gets your hot water back up and running. From pilot light repair to anode rod replacement and more, we deliver comprehensive heating repair in Tipp City, OH.

Water Heater Installations:

If your water heater is more than a decade old, it's probably time to have it replaced with something more energy-efficient and reliable. We'll help you consider your options and can make recommendations about the right unit for you. And, once you pick one, we'll handle the entire installation process. Count on us for your water heater installation to safely remove your old heater and replace it with a new one, with everything properly hooked up, tested and ready to go.
Water Heater Maintenance:

Maintenance is an important part of keeping your water heater and furnace services in good condition. Cleaning out the tank, replacing the anode rod and generally inspecting connections and fittings is a good step towards ensuring you're not left with a system that's on the verge of dysfunction. Our team can provide all of the water heater maintenance services you need to keep your heater functional.
Schedule Water Heater Service
To schedule water heater repair or for questions regarding your water heater and its function, contact the experts at M & S Heating Service Co. Inc. today by calling 937-222-9691. Our repair work includes boilers, furnaces, and much more.